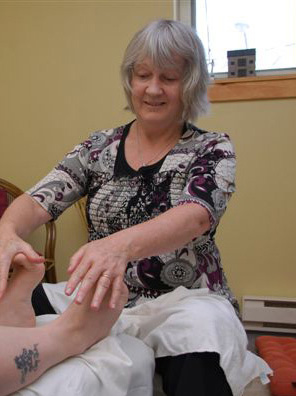 In 2013 Marian undertook achieving a lifelong passion of hers – reflexology certification. After 600 hours of training and practical work, in May 2013 Marian received her diploma from the Footsteps School of Reflexology, based in Toronto. Marian is a member of the Atlantic Canada Association of Reflexology Therapists and is a certified member of the Academy of Naturopaths and Naturotherapists (A.N.N.)
Three days each each (Wednesday, Thursday and Friday) Marian has a Reflexology practice where she skillfully massages away tension in the face, hands or feet. To book an appointment email This email address is being protected from spambots. You need JavaScript enabled to view it. or call 763-6462.
Here's what one of her clients had to say after a session:
"My work requires me to stand all day and after reflexology the swelling in my ankles is much improved, toe pain is gone and the general circulation is amazingly better." J R
Reflexology Therapist for Feet, Hands and Face
Marian practices reflexology in her loft studio where she skillfully massages away tension in people's feet.
Book your one hour or 90 minute session with Marian by calling 763-6462 or email This email address is being protected from spambots. You need JavaScript enabled to view it.
Massage away tension, pain and other physical discomforts with Reflexology or foot therapy. Reflexology uses the healing touch of the hands to apply pressure to certain zones on the feet. It is based on the knowledge that there are reflexes on different parts of the feet which correspond to organs in all parts of the body.
When these reflexes are stimulated by gentle but firm touch, the body's natural energy moves along the nervous system to clear any blockages. Reflexology breaks up deposits (felt as if sand were in your feet) which otherwise interferes with the natural flow of the body's energy. By manipulating these reflexes, the reflexologist removes stress and increases circulation that enables the body to return to a state of calm.
Benefits of Reflexology:
Relaxation with the removal of stress.
Increased circulation.
Complements all other healing therapies.
People of all ages can benefit from a half hour or one hour reflexology session.