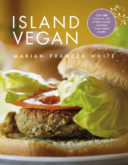 Island Vegan, Newfoundland's original trailblazing vegan chef, Marian Frances White, returns with over 100 beautiful and utterly mouthwatering plant-based recipes. Using readily available ingredients. To order advance copies go to Breakwater Books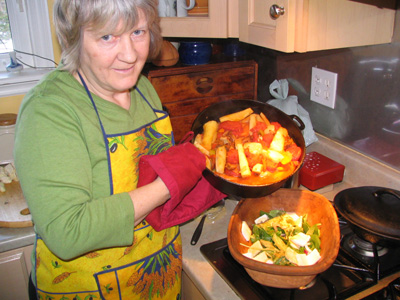 The following recipes were taken from the Eldemar Cookbook written by Marian:
Eldamar Veggie Paté
Preheat oven to 350 degrees
Pre boil 2 cups of water and set aside to cool
Using a food processor blend the following until fine:
2 ½ cups flour (rice, spelt, whole wheat) or whatever combination you prefer
1 ½ cups sunflower seeds or 1 cup sunflower seeds and ½ cup sesame seeds
Pour the above into a large stainless steel mixing bowl
Measure and add the following:
2 cups nutritional yeast (not brewers yeast)
1 tbsp each of thyme, basil and oregano
1 tbsp Newfoundland savory
1 tbsp Protein Seasoning (a vegetable seasoning put out by Bernard Jensen and used as a salt substitute. Available at Food For Thought or Healthy Choices)
In the food processor blend until smooth:
¼ cup lemon juice
¼ cup tamari soy sauce
1 cup sunflower oil or other light oil
6 medium onions
4 large potatoes (scrubbed and cleaned, leave skins on)
After blending for four to five minutes combine wet ingredients in bowl with dry mixture.
Add up to 2 cups of boiled water that is by now cool
Mix well and pour into two oiled Pyrex or stainless steel pans (one 9" X 12" pan and one 5" X 8" pan)
Makes two 1"Patés
Bake for 50 minutes. Cool before cutting.
Serve warm or spread cool on crackers as you would regular pate.
Enjoy!
Marian Frances White©
Apple Streusel-Berry Muffin
Preheat oven to 400"
Measure and pour the following ingredients
into a mixing bowl:
2 cups organic spelt flower
2 tbsp. coconut sugar
1/2 cup quinoa flakes
½ tsp sea salt
1 tbsp no-alum baking powder
In measuring cup hand mix till smooth:
1 tbsp. egg replacer with
¼ cup spring water
Stir in:
¼ cup sunflower oil
Gradually add 1 cup soy milk to fill the measuring cup.
Hand blend till moist. Do not over blend.
Add a little more soy milk if mixture needs more moisture.
Cut in one diced organic apple. Stir enough to mix.
Add 3/4 cup blueberries, fresh or frozen.
Fill muffin cups 3/4 full.
Sprinkle with topping below.
Topping:
In a small bowl crumble together these ingredients:
1/4 cup organic brown sugar
2 tbsp organic spelt flour
2 tbsp sunflower oil or vegetable margarine
Sprinkle a small amount over the top of each muffin.
End with a wisp of cinnamon
Bake for 25 minutes.
Serve warm with blueberry jam.
Created during a rainy May 24th weekend, 2006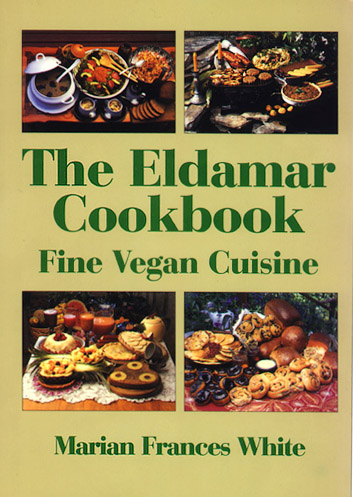 To obtain a copy of The Eldemar Cookbook contact Marian
Marian will be releasing a new copy of the cookbook in 2019


Eldamar Wild Blueberry Juice
In a stainless steel boiler, bring 4 quarts of spring water to a boil
Add 2 quarts or 8 cups of freshly picked blueberries
Bring berries to a boil
Reduce heat and simmer for twenty minutes
Allow to cool in boiler for about 1 hour
Strain off berries
Add ½ cup of Quebec maple syrup to liquid
Bottle in sterilized bottles and place in fridge
Drink at least one cup daily
Note: This recipe also works great with frozen blueberries.
The juice may be frozen but do not fill jars to the top
Juice will keep well in the fridge for up to one week
Enjoy
Marian Frances White©