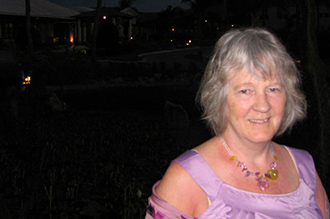 Marian Frances White grew up in a family of twelve. She was born on November 18, 1954 in Carbonear, Newfoundland. Her parents are Florence and Terrence White. Marian attended Memorial University of Newfoundland where she studied English, French and Spanish and later went to Carleton University, Ottawa to study Journalism. Marian traveled extensively in France before returning to Newfoundland and to Memorial University where she studied poetry and film.On the subject of film, in the 1990's Marian studied film in Tatamagouche, Nova Scotia and at the Algonquin College Filmmakers Summer School in Ottawa. She has also trained at NIFCO - Newfoundland Independent Filmmakers Co-op where she took courses in writing and directing for film.She is currently working on a sensual feast of a novel called Ah Paris! set in the 1980's and based in Newfoundland and Paris, France. In "Good Grief", a book of poetry that will include a selection of her photographs, White celebrates the life of her mother, Florence White, mother of twelve children. In all her work, no matter the genre, Marian explores her life-long admiration for the Island of Newfoundland where she was born and lives.Below is a selection of career highlights:

2019
Circus By Komatik; a one hour documentary on the circus outreach in Labrador done by Wonderbolt Circus and Beni Malone. View anytime on CBC GEM.


Island Vegan Cookbook to be released by Breakwater Books, June 2019


2018

Live animated film "Sights Before Christmas" released and aired on NTV in December 2018.
https://nifcocloud.dyndns.org/index.php/s/SS8EJ3tzcttDn3X


2017 - 2019

Produced by the St. John's Status of Women Council and published by Breakwater Books
- A Woman's Almanac (introduction) released in 2017

2013
- Reflexology Certification

2009

Marian is working on a sensual feast of a novel called Ah Paris! that takes place in Newfoundland and Paris, France.

Since her mother's passing in 2007 she has been collecting poetry and photos that celebrate her mother's life. This limited edition book will be called "Good Grief".




2008
On going work on the the movie "Father's Pride".


2007

White released the film Tricksters, a documentary that takes viewers for a unique circus adventure to northern native communities in Labrador. There we experience the hardship and beauty of remote Labrador life, juxtaposed against the backdrop of international circus artists as they bring the first ever circus festival to Labrador.

2005
Co-produced docu-drama Stealing Mary: Last of the Red-Painted Tribe

Released children's book, Sights Before Christmas, co-authored with Beni Malone

Invited Guest for Words Aloud Poetry Festival, Durham, Ontario

2004

League of Canadian Poets, readings in St. John's, Toronto and Montreal

Participated in Random Acts of Poetry with 27 Canadian poets

2003

Mind Your Eyes poetry book published by Killick Press

2003

Producer/Scriptwriter, LaughterShock kids TV series (in development0

2000-2002

Director/Scriptwriter for Fool Proof circus documentary

1999

Producer/Scriptwriter for historical docudrama The Untold Story

1998

Published The Untold Story Chapbook #1, a booklet that outlines the research to unearth the story of Newfoundland Suffragists

1997 - 1998

Co-Writer of Social History Series #2. Produced by the Writers Alliance of NF

1996

Skinny Dipping, White's first book of poetry. Published by gynergy books, P.E.I.

1995

WTN (now called WE) Writing On The Wall, featured poetry on TV program

1995

The Eldamar Cookbook, a fine vegan cuisine Published by Creative Publishers, NF. Celebrating recipes from twenty years as a vegetarian

1993-1996

Writer/Editor A Woman's Almanac - Voices from Atlantic Canada, an annual agenda book that profiled twelve women each year. Creative Publishers

1994

DISCOVER CANADA -- NEWFOUNDLAND AND LABRADOR
GROLIER LTD. A current history of the province. Second edition released in 1997; French Translation 1998

1994

A Woman's Labour - book and tape series that includes interviews and stories from various A Woman's Almanac profiles. Published by WANL.

1987-1992

Writer/Editor A Woman's Almanac - Newfoundland and Labrador edition, Published by Breakwater Books, NF

1992

The Finest Kind, Writer/Editor. A compendium of seventy-two Almanac profiles

1991

Not A Still Life - the art and writings of artist Rae Perlin Killick Press, NF: over 100 art reproductions; editor.

FILMOGRAPHY

2009
Perry's Cove Revisited is a short poetic film shot during a family reunion at their ancestral homeland. It uses existing footage of her father reciting a poem about his boyhood, later White recites her poem while walking along the 'goats paths of Perry's Cove'.

2008
Released Voodooville, a live show of Wonderbolt Circus.


2007
White released Tricksters, a documentary that takes viewers for a
2005

Co-produced Stealing Mary: Last of the Red Painted Tribe – a docu-drama on the demise of the Beothuk Indians of Newfoundland.

2004

Room, her ancestral home on the eastern edge of the Atlantic Ocean

2003-2004

Writer for film script The Elsie Holloway Story: a personal look at the life and work of a major Newfoundland photographer, including the historical landscape of photography

2003


2002

Script writer/director for clown/circus documentary, Fool Proof, released December 2002, Vision TV and NTV

2000

Chapbook for the Department of Education and Women's Policy office to accompany the high school classroom study of my film, The Untold Story of the Suffragists of Newfoundland

1999

Producer/Scriptwriter The Untold Story -- a docudrama on the women's suffrage movement of NF, 1892 - 1925
AWARDS AND AFFILIATIONS


2004-2008

League of Canadian Poets Atlantic Canada Rep.


2007
Stealing Mary took the Chris Award at the 54th AnnualColumbus International Film & Video Festival on November 11, 2007

1997 - 2002

Member of Producers Association of Newfoundland

Member of Writers Alliance of Newfoundland & Labrador

Member of League of Canadian Poets

Member St. John's Status of Women Council

Member of FOG, Friends of the Botanical Garden

2000

Artist of the Year 2000 Named by the Newfoundland and Labrador Arts Council, Sponsored by Newtel and CBC TV

2000

Nominated for History Documentary Award

Yorkton Film Festival, Saskatchewan

1999

Documentary, 3rd place Award at the San Luis Obispo International Film Festival, California

1995

Poetry Award, Department of English, MUN

1973-74
1972-73